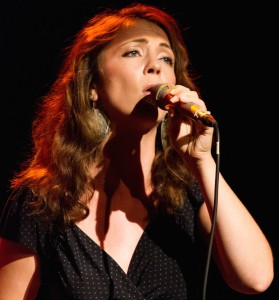 In Bogota (Colombia) she studied Voice and piano at the Juan N. Corpas, she. Continuing her studies in Germany at the "Hochschule für Musik und Tanz Köln", she took voice lessons in jazz and pop music with teachers as Anette von Eichel and Susanne Schneider. She took Masterclasses with Jay Clayton, Sidsel Endresen, Norma Winstone, Jen Shyu and Bob Stoloff.
In 2013 her interest in different styles of music brought her to São Paulo, Rio de Janeiro and New York. In Brazil she was touring with the Brazilian musician Itamar Collaço. With her Vocal Band Âmago where she also plays percussion you can still hear her Latin American influence.
Besides playing her own compositions with her Jazz Quintet "Charlotte's most wanted" she sings with the improvising singers collective "Vokalorchester NRW" since their founding in 2017.
With the glamorous "Femmes Fatales" Lisa also shows her humerus acting talent.
The ensemble played in venues like the Grusellabyrinth NRW, Pantheon Bonn, Titania Theater and the Gloria Theater.
As a background singer she already sang with Patricia Kelly (Kelly Family) und Paul Potts.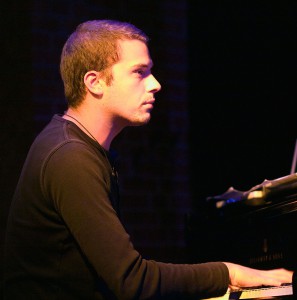 Simon Seidl, *1988 Ingolstadt, Piano Der in Ingolstadt geborene und in Köln lebende Pianist Simon Seidl studiert derzeit Jazzklavier bei Hubert Nuss an der
Musikhochschule Köln.
Mit ca. zehn Jahren erhielt er seinen ersten Klavierunterricht. 2007 bekam er den Ingolstädter Jazzförderpreis verliehen und war von 2007 bis 2008 Jungstudent am Konservatorium in München.
Von 2004 bis 2007 war er mehrfacher Preisträger bei Jugend jazzt und Mitglied im Landesjugendjazzorchester Bayern.
Neben seinem Trio mit Robert Landfermann und Fabian Arends spielt er als Sideman in mehreren Ensembles.



Philipp Brämswig (1980) begann das Gitarrenspiel im Alter von 8 Jahren und war schon in seiner Jugend sowohl als Solist wie auch in Ensembles erfolgreich bei zahlreichen Jazz- und Klassik-Wettbewerben auf Landes- und Bundesebene ("Jugend musiziert", "Jugend jazzt", "Jazz over Hannover", "Biberacher Jazzpreis").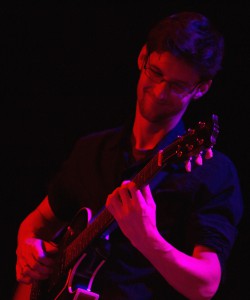 Er war Mitglied im Jugend-Jazzorchesters des Landes Niedersachsen sowie im Bundesjugendjazzorchester (BujazzO) unter der Leitung von Peter Herbolzheimer.
Während seiner Studienzeit am Conservatorium van Amsterdam erhielt er das "Top Talent"-Stipendium der niederländischen Konservatorien, was ihm einen Studienaufenthalt in New York City ermöglichte, wo er Unterricht bei u.a. Ben Monder, Wayne Krantz, Chris Crocco und Dave Liebman bekam.
In den Niederlanden war und ist Philipp in verschiedenen Bands tätig: der Drum&Bass Band "Clubdoctors" der "New Generation Big Band" und der "Renske Taminiau Band", ausserdem arbeitete er als Studiomusiker.
Tourneen führten ihn nach Polen, Rumänien, Albanien, Bulgarien, die Niederlande, Frankreich, die Schweiz und natürlich Deutschland.
Unter anderem war er in verschiedenen Rundfunk-, TV- und Musicalproduktionen zu hören (z.B. Hair) und spielte Konzerte mit Charlie Mariano, Bob Mintzer, Richie Beirach, David Berkman, Candy Dulfer, Pete Philly & Perquisite und vielen mehr.
In und um seine neue Heimat Köln ist er in verschiedenen Bands tätig. (siehe Projekte)Philipp spielt Gibson, Fender und Takamine Gitarren und Groove Tubes, Fender und AER Verstaerker.



Jakob Kühnemann studierte Jazz-Kontrabass an der Musikhochschule in Köln und am Conservatoire national supérieur de musique de Paris und hatte unter anderem Unterricht bei Dieter Manderscheid, Detlef Beier, Martin Wind
und Riccardo Del Fra.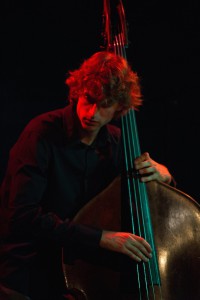 Schon früh tourte er als Mitglied des Landesjugendjazzorchesters NRW und des Bundesjazzorchesters durch In- und Ausland. In Köln ist er sowohl als Sideman als auch als Bandleader aktiv und war Finalist beim Europäischen Nachwuchs-Jazzpreis in Burghausen und dem Convento Nachwuchs Jazzpreis NRW. Mit dem Philipp Rüttgers Quartett war er Sieger beim Zomerterras Concour in Vlaardingen (NL). Er stand schon auf einer Bühne mit Musikern wie Hayden Chisholm, Barre Phillips, Ed Partyka, Jiggs Whigham und Bill Dobbins.
Als Stummfilmbegleiter spielte er unter anderem auf dem Festival L'autre cinéma in Arras, im Théâtre des Champs-Élysées in Paris und auf Ruf des Goethe Instituts in Beirut. Konzertreisen unternahm er außerdem nach Griechenland, Polen, Estland, Bosnien, Bulgarien, Serbien, Indonesien, Malaysia, Kambodscha, Vietnam und zuletzt im April 2012 auf Einladung des Auswärtigen Amtes nach Benin.



I started out by playing Piano when I was about 8, got a drumset when I was 10 and a couple of years later I started to play a bit of Bass and Guitar.
I studied Drums and Percussion at the Conservatory of Amsterdam and received a scholarship for a trip Rio de Janeiro to study Brazilian Music.
After finishing my studies in Amsterdam and graduating with a Master degree, I moved back to Germany and studied Music Production at the Hochschule für Musik in Cologne with Professor Jono Podmore.Besides being a drummer I also like to write, record, mix and remix music in my homely Studio in Cologne.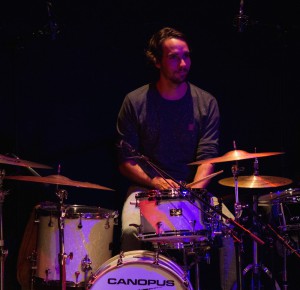 I was working on Banda Sensuáls record "Trinta" as Co-Producer and I produced a couple of tracks on Hannah Köpfs debut Album "Stories Untold".
Her second album "Flying Free" as well as her most recent release "Lonely Dancer" were produced by me and all songs were composed by Hannah and me.
Together with Markus Braun and Laia Genc I recorded and produced the music for the reality-musical-documentary-soap "Wir rocken Barcelona" for "Kika", the TV-channel for Children of ARD and ZDF.
Finally, here's a small selection of artists I have performed with:
Banda Sensuàl, Benny Sings, Boris Titulaer (Dutch Winner of Idols), Faberyayo, Frank McComb, Hannah Köpf , Pete Philly, Peter Fessler, Postman, Raymzter, Renske Taminiau, Roos Jonker, Tom Gaebel, WDR Rundfunk Orchester, Wicked Jazz Sounds Band, Wouter Hamel, Yuko Ando.